— New Micro-Dimensionair® II incorporates digital indicator in versatile, handheld gage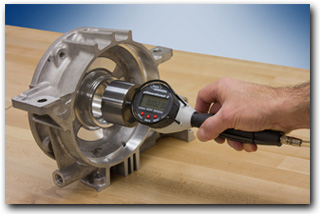 PROVIDENCE, RI – Mahr Federal has introduced the next generation of its well-established Micro-Dimensionair® line of portable air gages. The new Micro-Dimensionair II incorporates the enhanced Micro-Maxum® II Digital Indicator and an interchangeable handle to provide accurate, convenient readouts at the measurement site. The digital dial on the new Micro-Dimensionair II rotates through 270 degrees for easy viewing, and the IP-54 rated gage provides the exceptional accuracy and repeatability Mahr Federal users have come to expect.
Air gaging has increased in popularity in recent years as part tolerances have gotten tighter. It is fast and accurate, readily used in production environments, and the gages even help clean parts by blowing dirt away.
The Micro-Dimensionair II incorporates all the benefits of the enhanced Micro-Maxum II line including: Dynamic Max, Min, TIR; two point difference measurement; Multiplier Factor for ratio measurements; indicator serial number identification; resolution to 20 µin; selectable, continuous output; and longer battery life. All standard features are retained, such as inch/metric measurement in digital or analog display; bi- and unilateral tolerances with presets; multiple data output formats; auto-zeroing; and normal/reverse settings for ID/OD.
The new Micro-Dimensionair II also offers the versatility of being used in the single master mode for fixed range resolution, or the gage can be used in a two-master mode allowing the magnification to be set by the masters.
The interchangeable handle on the new Mahr Federal Micro-Dimensionair can be configured as a pistol grip or normal end-mount for easy application of the plug to the part. For large, heavy plugs, the handle can also be mounted between the tooling and the display to provide a well-balanced, ergonomic measuring system. The gage can also be bench-mounted or even mounted directly on the machine tool for added convenience.