Sales | Gaging Products
The Tool & Gage House offers a wide variety of gaging products. With over thirty-five years of experience in the field, we can assist you, whether your needs are a simple plug gage or a custom gaging system for your unique product. Representing the best in the business, you can be assured the gages you receive are of the highest quality and the strictest tolerances. Take advantage of the Tool & Gage House's access to over 70 gaging vendors and rest assured that you are delivering products of the highest quality possible.
Gaging Products
---
Gaging Manufacturers
---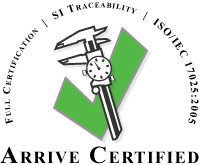 Need gages with full certification & SI traceability?
Simply request your gages "Arrive Certified" and the Tool & Gage House's Quality Services Division will certify your gages before they are shipped out.Your gages will be ready to go to work as soon as they hit your dock.
Our Calibration Facility is ISO/IEC 17025:2005 Accredited through L-A-B.