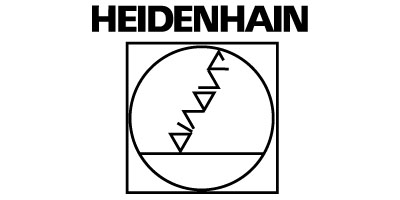 Heidenhain
HEIDENHAIN today
HEIDENHAIN is represented in more than 50 countries today, mostly by wholly owned subsidiaries. Sales engineers and service technicians support the user on-site with technical information and servicing.
The high quality of standard of HEIDENHAIN is documented through certification in the ISO 9001 quality systems model and by authorization as German Calibration Service (DKD) inspection station for units of length and angle. Long product service life and recyclable designs on the one hand and careful use of resources and optimized energy consumption on the other are preconditions for the Environmental Declaration in compliance with ISO 14001.
The high quality of HEIDENHAIN products depends on special production facilities and measuring equipment. Masters and submasters for scale manufacturing are produced in a clean-room building, with special measures for temperature stabilization and vibration insulation, built especially for this purpose. The copying machines and the machines required for the manufacture and measurement of linear and circular graduations are also developed and built by HEIDENHAIN.
Milestones in HEIDENHAIN's History and Product Development
The origins of our company lie in a metal etching factory established in late-nineteenth century Berlin. Founded by Wilhelm Heidenhain in 1889, this firm manufactured templates, signs, scales and graduations. After World War II, Wilhelm Heidenhain's son established today's company, DR. JOHANNES HEIDENHAIN GmbH, in the Bavarian municipality of Traunreut. Graduations and price scales for the retail trade were among our first products. Drawing on experiments he had conducted in Berlin, Johannes Heidenhain began producing first-of-their-kind optical position measuring systems for machine tools. Dr. Heidenhain and his team subsequently developed photoelectrical linear and angular encoders. These and other innovations produced by HEIDENHAIN initiated the automation of numerous machines and manufacturing plants.
During the past two generations, DR. JOHANNES HEIDENHAIN GmbH has emerged as an important manufacturer of numerical controls and drive technology for machine tools.
For nearly 125 years, HEIDENHAIN has pioneered highly technical solutions to complex manufacturing requirements. To ensure his company would always remain true to his principles, in 1970 Dr. Johannes Heidenhain entrusted the shares of his company to a foundation. Dr. Heidenhain's objective was to ensure both the continuity of his company and his firm's unwavering commitment to technical progress. Dr. Heidenhain's foresight has allowed us to continue to invest extensively in applied research and development.
Quality and Environment
Quality
As long ago as 1930, Dr. Johannes Heidenhain formulated the three principles of Service to the customer, highest achievable quality and continuous improvement as prerequisites for our company's success. To this day, these principles remain the basis for our work and actions. The requirement for highest achievable quality refers not only to the final products, but also to all activities in our company. The high HEIDENHAIN quality standard has been confirmed by certification according to ISO 9001.
Environment
But quality isn't everything. HEIDENHAIN also sets standards in environmental protection. Long life cycles and products designed for recycling on the one hand and resource conservation and the sparing use of energy one the other are prerequisites for environmental certification according to ISO 14001. Validation according to EMAS also affirms HEIDENHAIN's sustained development efforts toward products that are lastingly economical, ecological and socially compatible.