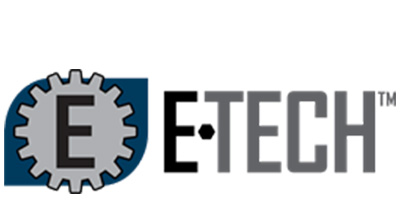 E-Tech
E-Tech Industrial Corporation designs, develops, engineers, and manufactures precision tools and parts used in the aerospace and automotive industries.
Although it represents a smaller portion of our business, we also design and create tools and parts used in manufacturing and maintaining heavy equipment used in the white goods and agriculture sectors.
Originally founded in 1999 as Lubbering Corporation – a US-based subsidiary of Germany-based Lubbering GmbH – E-Tech ended its relationship with Lubbering GmbH in June 2017 and relaunched and rebranded as a fully independent, American company. That's why, today, every E-Tech tool is designed, engineered, and manufactured in the USA.
With nearly two decades of experience in developing and delivering:
absolute precision
total accuracy, and
rugged durability
to customers through our standard and custom power-tool attachments and fastening tools, E-Tech understands the rigorous demands of your industry and the uniqueness of your application. In fact, we've probably already been in your plant and met your team.
Speaking of team, we have a great one. The synergy our engineers and product specialists have developed over time – with each other and with our customers – allows us to produce superior products and offer our customers enhanced service, including faster response and delivery times. And, because all E-Tech products are designed with CAD/CAM/FEA accuracy, you can be confident that they meet or exceed the highest engineering standards.
In the aerospace manufacturing industry, precision and accuracy are essential. That's why our aerospace tools and attachments are precision designed and machined using the latest software and technology.
What isn't as precise, however, are the terms customers sometimes use to try to find our exacting tools. What we call aerospace tools, some may refer to as aircraft tool supply, aircraft tools, aviation tools, or avionics tools. Also, what we call temporary fasteners, others may call quick release fasteners.
When looking for our drilling crowfoot line of tools, some prospective customers have searched for crows feet tool or crows foot socket. And, when searching for our rivet nut shaver, some may ask for our rivet nut tool.